Archived from "My Lil Guy" (my previous blog)
I loved the book Where the Wild Things Are when I was child and when I heard they were turning it into a movie, I was very excited.  I saw several Max wolf suits at Etsy and they sparked an idea.  What a super fun party theme! I drew one of my lil' guys dressed up in a wolf suit and used it to create a Mischievous Max invitation. I thought it would be fun to share with you some of the other great projects that I found while looking for inspiration.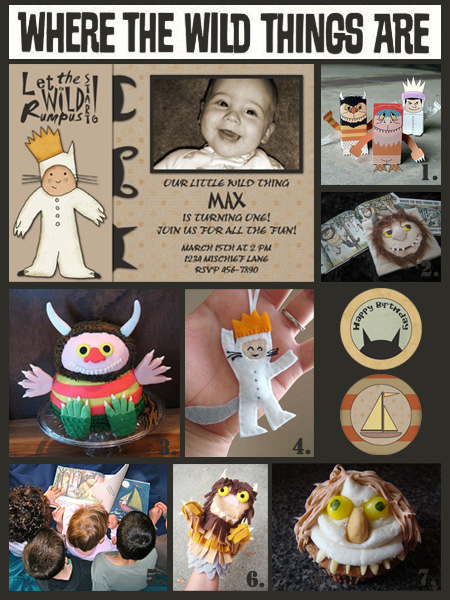 The invitation and tags/cupcake toppers are my designs and are a great way to give your party a fun unique look.
1. Over at the Toy a Day site you can find three great printable toys( Max, Moishe, and Sipi ) to either make ahead of time for decorations or to use as an activity for your party guests.
2. Since this is a book based theme, why not have the book be one of your main decorations?  Why not even decorate the book itself?  Etsy seller shannashamrock has this amazing Carol/Moishe Book Cover in her shop. I love the idea of creating a character's face on the book cover.
3. Of course you have to have a cake and this cake is the most amazing one I have seen! Be sure to check out the blog this came from for a really cute picture of her lil' guy in his Max costume.
4. Over on flickr, batzie09, has this cute little felt max ornament.  Depending on the age of your guests, you could do a felt craft project or even make a whole felt play board scene ahead of time for the kids to play with.
5. You'll want to be sure to have time to read the book aloud to everyone.  Get the kids to help make all the sound effects for the wild things. This blog post has lots of additional party activity ideas and crafts.
6. I am in love with this puppet and whimsy girl's stop motion video of how she made him. You could have all the pieces precut and let the kids put together their own puppet or if you had a small group you could go ahead and do the assembly and just let them play with the puppets.
7. Cupcakes are always a great way to have some fun with decorating. These cupcakes make use of cashews, lemonheads and slivered almonds to create wonderful wild things.
I hope you feel inspired to get a little creative and make your next party a one of a kind wild rumpus!