Archived from "My Lil Guy" (my previous blog)
As much as I love creating and decorating for parties, my party budget is usually pretty limited. I try to get the most out of each dollar and love to find creative ideas to help make my little guy's day wonderful without breaking the bank. My oldest is turning 5 in a few months, so I'm beginning to brainstorm for party ideas and thinking about creative ways to make it all come together. I know that no matter what size party you are planning, you probably want to get the most bang for your buck too.
There are lots of sites around the web that have general tips for throwing a party on a budget. They usually say things like keep guest numbers low, make things (like the cake) yourself, and have the party at your house. Today I want to share one of my favorite ways to stretch the party dollars, make items play double duty.
If you are already buying/ making something for your party make sure it can fill as many roles as possible. As pointed out above, if you have an overall theme you can often make practical items (like food and the cake) play double duty by simply finding a way to tie them into the theme. So how would you tie food into a theme that has nothing to do with food? You can always make labels for each item with clever names that reflect the theme (punch = rocket fuel for a space party). Of course the cake usually reflects your theme, but make sure to try to think about other ways to turn your sweets into décor. Cupcakes are wonderful when it comes to getting creative. Dot over at Dabbled.org made some wonderful Clone Trooper cupcakes for her son's Phineas & Ferb meet the Clone Wars 5th birthday party. Aren't they cool?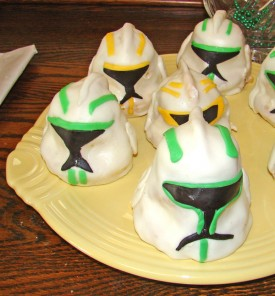 For my oldest son's 4th birthday last year, we had a Word World theme and the cake was made to look like it was made out of the letters C-A-K-E, just like the one from the cartoon. We also used alphabet letter cookie cutters and alphabet gummy candy to dress up the table.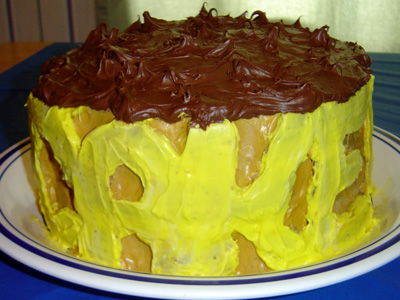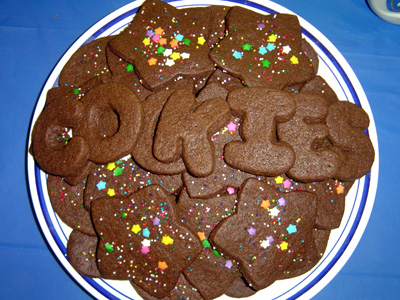 Another thing we did for his party was to use his birthday present from us as part of the party decorations. I had found a Word World play set for him, so instead of wrapping it, we set it up on the coffee table for the kids to play with while they were all arriving. I loved that I had a decoration that wouldn't be thrown away after the party and he loved playing with his new toy. There are toys for just about every theme so you could do this with a variety of things.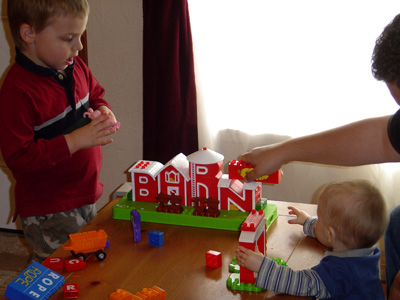 Another great place to make things play double duty is the party favors. We all want to make sure that our party guests know how much we loved having them over but party favors can really blow a budget. Find a way to make them part of the decorations or perhaps an activity and you will get more bang for your buck. If you are doing a little favor bag, make sure to dress it up so that it helps decorate the room. If you're doing a larger single favor, you can use them as part of the decorations. One year we did pinwheels as favors and mixed them in with the balloons until the kids were ready to have them. You can also have the kids make a craft and then take it home as their favor.
Saving money doesn't have to be difficult. It just takes a little planning and a bit of imagination. If you have any great budget friendly party ideas or links, feel free to share them in the comments.