Over a year ago, I told the internet world I was taking a little hiatus in order to pursue a new business with my hubby. Well here we are in 2013 and I think I'm finally ready to start sharing what I've been up to all this time. What's funny is that even though I was technically a grownup before all these changes, I can now say that I truly feel like one. And that it's not as bad as I thought.
As a way of giving this whole blogging thing a fresh start, I've changed the website from mylilguy.com to craftygeekmom.com. I still have every intention of sharing the antics of life with my two boys but I've decided that even though they will always be little guys to me, they are in fact growing  into much larger guys (Much too quickly I might add!) and therefore the thing that will remain the same is that I will always be their mom. So I thought of a couple more words that will probably always describe me, crafty and geeky, and BLAMO my new persona was created, Crafty Geek Mom.
Now I know what you're thinking. "That's great that you found your new persona but get back to the part about being a grownup and it not being all that bad."
Alright, alright back to the whole feeling like a grownup thing. So as I said before the hubby and I started a new business over a year ago. He left his career as a real estate agent and we partnered to open up a local game store. We sell tabletop games, trading card games, board games and other geeky goodies. We run events and tournaments almost every weekend at the store and we've even got our kiddos up there playing too. The oldest is a pretty good Pokemon player but watch out for the little one, he makes up his own rules. :) The store takes up a huge part of our time but the hubby and I are doing it together and the fact that kids are able to be there with us makes it all worth it. Being a mom is still my main job but being a game store owner is a pretty cool second job. Oh and being a small business owner defiantly helps to make you feel a bit more grownup.
If you add the fact that during this last year and a half, my oldest started school and I joined the 30-something club, you might see why I've begun to start feeling like a real grownup. The cool thing that has come with finally feeling like a grownup, is the fact that I've stopped worrying so much about what everyone else thinks I should do. I mean when people ask what my husband and I do, I usually have to explain what Warhammer, Warmachine, Magic, Pokemon, etc are just to get them to understand what we sell in our store…"No, we don't sell video games and yes adults do actually like to play these types of games." So pretty much right off the bat, we set ourselves apart from the normal people, ha!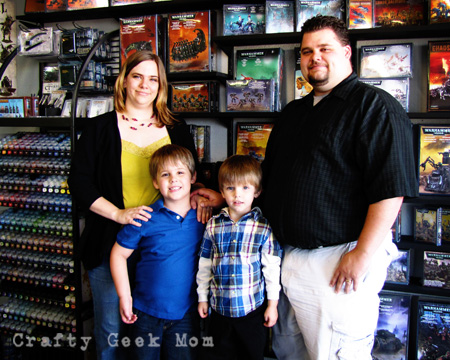 So it only took 30+ years for me to start feeling like a real grownup (before I'm pretty sure I was just a pretending to be one.) and what I have I done with it? Let my geek flag fly! :D