Archived from "My Lil Guy" (my previous blog)
Finally getting a chance to share some pictures. Halloween was stretched out over a few days for us. I did manage to get the boy's costumes done in time. Although each time they put them on, I did some modifications which ended with me stapling Vader's collar on Halloween night so that it would stay in place. Yes, I'm that kind of DIY mom. :)
*Warning* Lots of pictures below. I think my kiddos are about the cutest thing ever and can never seem to narrow down my favorite pictures. Therefore you get lots to look at!
Our first outing was just me and Lord Vader (Sir Q). We went to a little party on Thursday night at the speech clinic. He was excited at first but stopped dead in his tracks once we got inside the office and he saw all the people. I told him that with his helmet on no one would know who it was. He thought that sounded ok and braved it. A few times I had to take his helmet off and he tried to keep his eyes closed until I put it back. I don't know if he had much fun but he did like eating the cupcakes they had. Here he is getting ready at the house.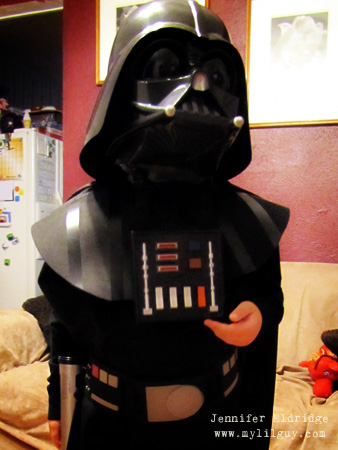 Then on Friday night we took both boys up to the hubby's office. Everyone had set baskets of candy by their office doors and the boys went from door to door helping themselves. Boba Fett (Capt C) thought this was the coolest thing ever and had to be reminded several times to only take one from each basket. Once the little Boba got the hang of it, Vader came out of his shell a little bit and actually said "Trick or Treat" to the people who where in their offices. Here's the "Dark" Duo.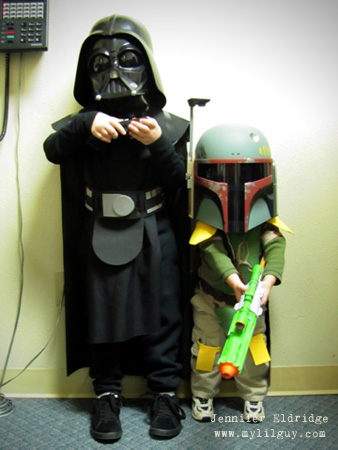 Then on Sunday, we got the boys together with Han Solo (their cousin) and Princess Leia (our friends' daughter) for a front yard photo shoot. The kids had fun playing in the yard and Boba's helmet was a big hit. Everyone tried it on, even Grandma! After it got dark we took the three boys Trick or Treating and they had a great time. We only did one block but they made out like bandits. I think its because they are so cute! ;)
The little ones staring at Darth Vader getting his helmet on.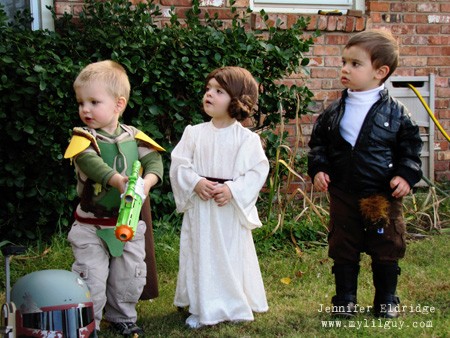 The whole group…getting 4 kiddos to stand together for pictures is like herding cats.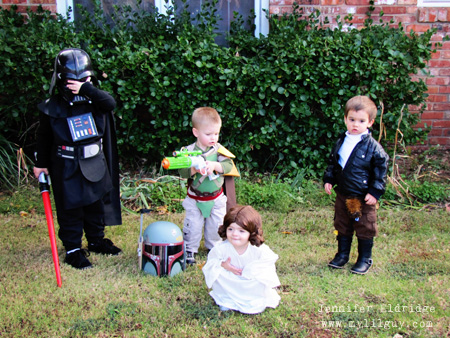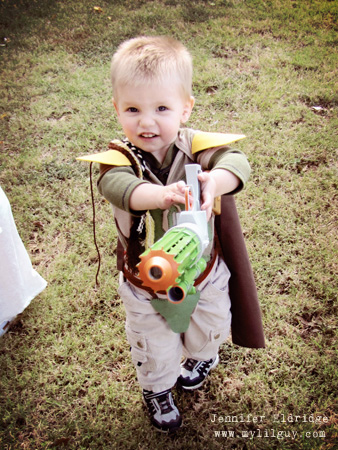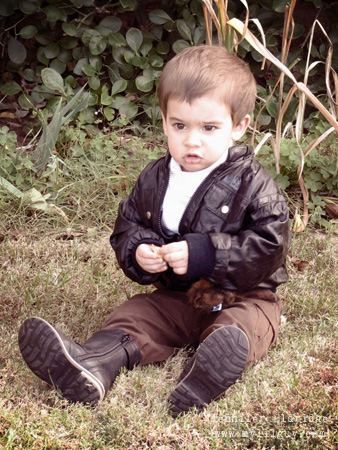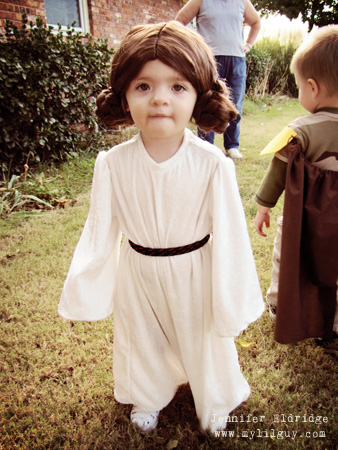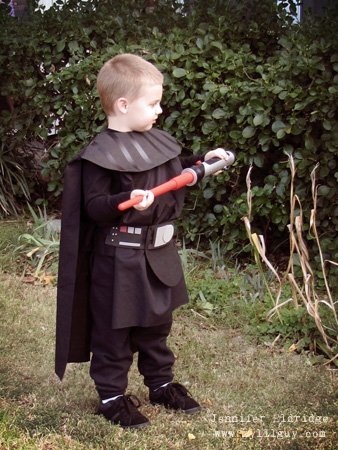 No disintegrations occured in the taking of this picture.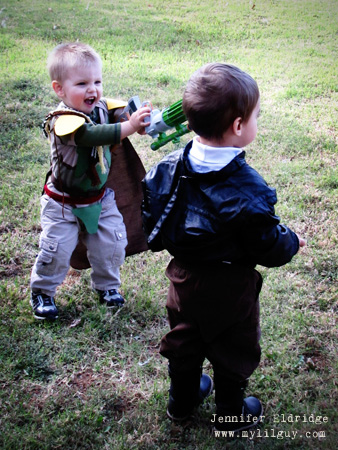 Vader got tired of his helmet, so Daddy got to hold it.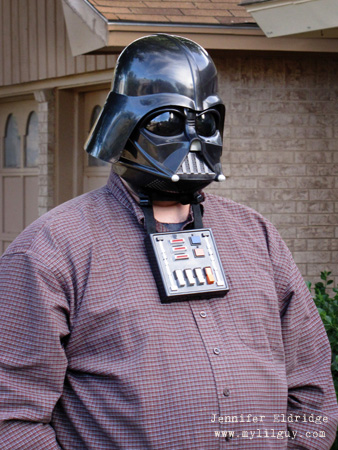 We also carved some pumpkins. This year Sir Q picked out a pattern (a happy spider) and actually helped me carve the pumpkin. Big improvement over last year, when he took one look at the inside, said "that's gross" and ran away. Hubby and I also carved pumpkins but I tried too get to fancy and made a epic fail pumpkin. Hubby deemed his the Oni-lantern and since his actually held up after being carved, I guess he wins this year. But next year he better look out.