Archived from "My Lil Guy" (my previous blog)
This year I decided to try to make my little guys' costumes. While sewing is not my strongest ability, I figured I could come up with something and better to try it now when they are little and can't fight back.  Sir Q wanted to be Darth Vader, who he informs me is not a bad guy (I'll have to talk to him about his definition of bad guy later) and Capt C is going to be Boba Fett. Mainly because their aunt and I got to talking about doing a Star Wars theme, and themes make me so very happy, and therefore the little one is going to be Boba Fett because Mommy says. Their cousin is going as Han Solo and we are trying to teach Capt C to say "put him in the cargo hold" but I think he's just happy shooting everyone with his blaster.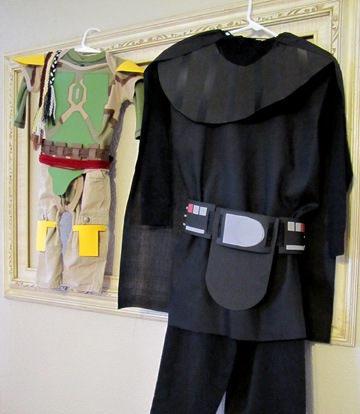 This is what I have come up with so far. They are made mostly from foam sheets, fabric and yarn. The rest is clothing the boys already had. They also have toy helmets, a light saber and a blaster; which Sir Q got for his birthday. The helmets are great because they make sounds effects and should be something they can play with for years. Although the helmets are huge and make the boys, especially Capt C, look like bobble head dolls but that just adds to the cuteness factor.
Sir Q got to wear his costume last night but in true little kid fashion, Capt C was sick and had to stay home with Daddy. Hopefully both boys will be doing OK on Halloween and get to go out, but even if they don't, I'm still dressing them up and taking pictures! :)