Archived from "My Lil Guy" (my previous blog)
September is going to be one "sweet" month around our place. My oldest is turning 5 in a couple weeks and we are doing a Candy Land theme for his party this year. For those of you who don't know Sir Q, let's just say that the boy is a creature of habit and insists we stick to routine.  Well for at least the past 6 months, we have played 2 games of Candy Land almost everyday, right after lunch while Capt C takes his nap.  And even though I'm so very tired of getting stuck on licorice squares, I really have enjoyed this little ritual with Sir Q. Which is pretty funny considering that I have a traumatic childhood memory of the game, but that's for another post. ;)
So in preparing for the upcoming birthday party, I have been searching the interwebs for inspiration. There are some really great Candy Land parties out there and I really love the idea of creating a life size Candy Land board and having the party guests actually play the game, but alas most of our party guests are from the 3 and under crowd and have don't have the attention spans, nor the skills, to play along.  Not to mention my house is a bit on the smallish size, but I am however hoping to create a scaled down version that the kiddos can just explore. I wanted to share some of the great stuff I found in case you are needing a little inspiration too.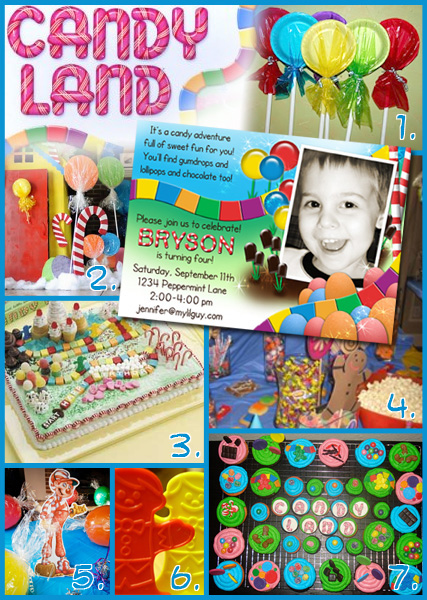 The invitation is my own design.
1. I found great ideas for making lollipop decorations over at My Creative Way. So easy and yet so cute!
2. Check out this amazing party over at Katherine Marie Photography. So many amazing details and simply stunning pictures! You will get a sugar high just from looking!
3. How about creating a game board cake? This one over at Amazing Kid Birthday Parties is one of the best versions I've seen.
4. This Candy Land Birthday by Sarah has a ton of great ideas. I love her table settings!
5. Check out jlund2008's photostream over on flickr for some more great decoration ideas.
6. Of couse if your guests are old enough, a game of Candy Land would be great for a small group or use the game board and pieces for decorating. Photo found onflickr.
7. Everyone loves cupcakes! So how about some Candy Land cupcakes? I love these by Tishatls!
More ideas, projects and pictures coming soon as we head closer to the big day.