*This was originally posted on August 7th, 2009 on my digital scrapbooking blog, but I thought it was worth sharing again. :)
So when I was little, my mom made special birthday cakes for me and my sister. There was a horse cake, a barbie cake, even a teenage mutant ninja turtle cake. My grandmother also made amazing cakes for parties and holidays. I remember helping them, or at least licking the beaters, and thinking someday I too would carry on this tradition.
Now I have children of my own and birthday cake opportunities abound. I had grand ideas of making cakes my kids would remember forever and then reality set in…at the time of Sir Q's first birthday I hadn't "helped" with a spiffy cake since I was about 12 and while I might vaguely remember the end results of those cakes my mom made, I apparently blocked from memory how much work a cake can be.
So when Sir Q's first birthday rolled around I looked for a easy way to create a cute cake. I didn't have an arsenal of icing tips and cake pans like my grandmother, so I made do with the couple of round cakes pans I had. I decided to go with a Sesame Street Theme and made a Cookie Monster cake. Well and blue icing is just the best for first birthdays.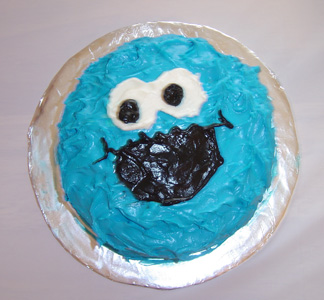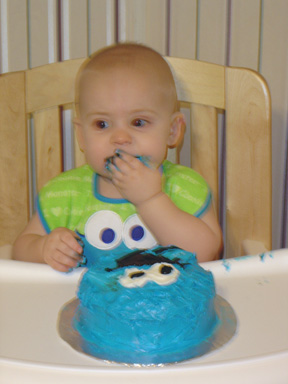 So birthday number two rolls around the next year and I feel the need to create another cake.  By this time Sir Q is totally hooked on Toy Story and thinks Buzz Lightyear is the coolest thing ever.  So I start trying to figure out how I'm going to make a Buzz cake and still keep my sanity.  After some Internet snooping I find out that there is a technique called buttercream transfer.  You basically draw out the lines of the design on wax paper, fill in the empty areas with colored icing and then poop it in the freezer.  When it's hard enough, you take it out, peel the sheet of icing off the wax paper and plop it on top of the pre-iced cake.  As the icing warms up it melds with the cake and looks like you are a uber cake decorator of doom.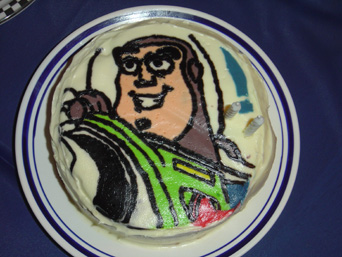 So after two years of managing to pull off creating cakes, I decided to get more ambitious.  I brought me some spiffy decorator tips and a 3d cake pan and set out to create a cute dragon for my little knight.  The instructions that came with the cake pan said to make your own icing using their recipe.  Why would I want to make my own icing when I can buy little tubs of the stuff premade at the grocery store?  I'll tell you why, the icing at the store is not the kind that makes nice stiff little stars that stay in place on vertical cake surfaces.  I spent the entire night putting the icing into the fridge to try to make it firm enough to decorate the cake.  Lesson learned!
I also hadn't figured out how I was going to make the wings for said dragon and by the time I finished icing the cake I didn't have any energy left to make wings.  Over all I wasn't thrilled with the end result and swore that was the end of me making birthday cakes.  But the next morning I looked at it and it wasn't too bad.  Without the wings it looked kind of dinosaur-y, so the dragon became a dinosaur and I went out and brought some dino balloons to make it look like thats what I had planned in the first place.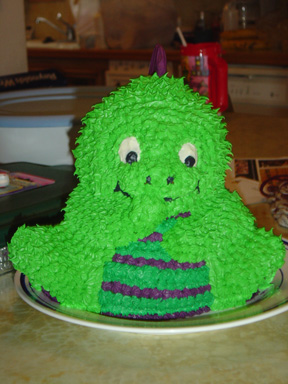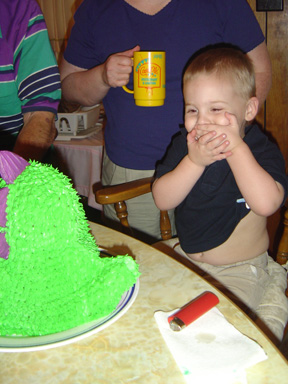 And that last picture is why I am currently looking around the internet to figure out a way to make a Word World cake for his birthday in September.  I'll let you know how it goes.
* I did manage to pull off last years Word World cake. ;)