Archived from "My Lil Guy" (my previous blog)
Earlier this month I decided to make my hubby something special for his birthday. With his birthday so close to Halloween and with my little boys' birthdays on either side of it, I'm always focused on their party stuff, costumes, etc and sometimes I kinda forget that he might like something fun too. After all he really is just a big kid anyway.
This year I was trying to explain to Sir Q that after his birthday, there are several more holidays before we get to Chirstmas (He's pretty excited about Chirstmas this year) like Halloween, Capt C's birthday and his cousin's birthday, Thanksgiving….and then hubby piped in "what about my birthday?" I felt so bad that I resolved to make sure that this year I would do something really cool for him.
Now something about hubby that you need to know, is that he still plays with army men. :) Actually he's an amazing miniature painter and runs gaming events up at the local game store. I decided that I would make up something and take it up for Warhammer night at the store (cause I'm a cool gamer's wife).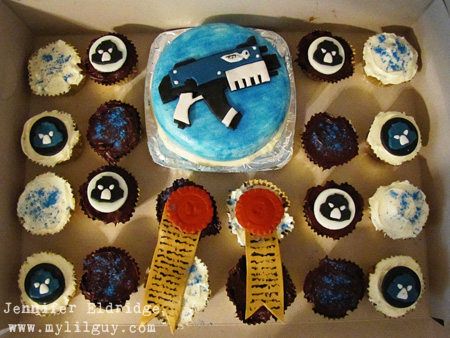 So while some women take cupcakes to the school for their kid's birthday, I take cupcakes to the game store for my gamer's birthday. I decided to try fondant for the first time because it was the only way I could come up with to make the bolter look really nice. It looked really cool but I will be the first to admit that fondant just isn't that tastey.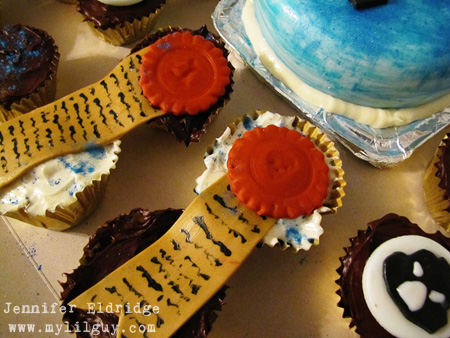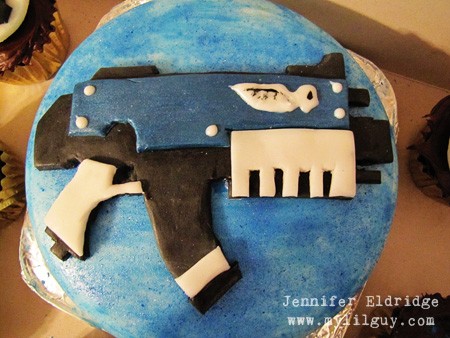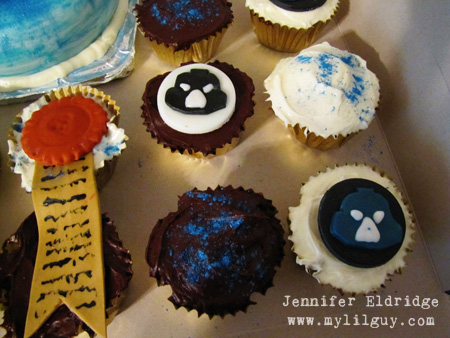 All the guys got a kick out of the cupcakes and I think I earned some major geek wife points. 8)